The campaign is extended until August 31st, 2022, and the residents of Osaka, Hyogo, Shiga, Mie, Fukui, Nara, and Wakayama prefecture are eligible in addition to Kyoto residents.
What is "Kyoto Miryoku Sai-hakken Tabi Project"
(きょうと魅力再発見旅プロジェクト)?
The campaign is literally translated as "Kyoto Charm Rediscovery Trip Project" and financially supports trips within Kyoto prefecture from May 9, 2022 through September 30, 2022. You may book an accommodation up to three nights in a row but there is no limiation in the number of booking for which you use this campaign.
Originally targeting Kyoto residents, the campaign now are receiving reservations from the residents of five neighboring prefectures (Fukui, Nara, Shiga, Osaka, Hyogo, Mie, and Wakayama).
The discount and Kyoto support coupon amounts are determined based on the pre-discount nightly price per person (irrespective of age) and upper limits are JPY5,000 and JPY2,000 respectively. Coupons can be used in the registered restaurants and shops in the prefecture from the check-in date through check-out date.
The local campaign will be terminated as soon as the nationwide GoTo Travel campaign is back (so is practically positioned as "Kyoto's pre-GoTo Travel campaign") or the local government used up the entire budget.
Click the banner here to go to the official site of the campaign (there's no official English site).
So What's the Deal?
The calculation of discount/coupon amounts are based on nightly pre-discount amount per person (whether you are adult, kid, or enfant) of the accommodation package you pick. Once the amounts are figured out, the nightly discount/coupon amount per person is determined based on the following table.
If your group includes residents outside of applicable prefectures, their portion is subtracted from the calculation.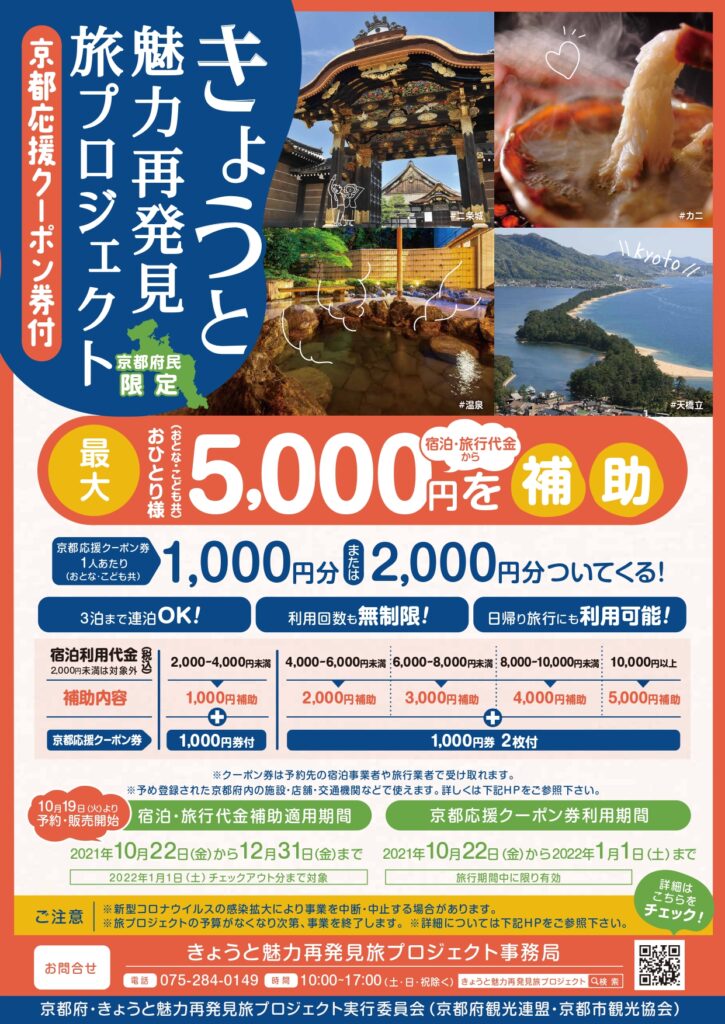 Specifically, How Much will it be Cheaper?
In the case of the below three accommodations listed on this site,
The discount/coupon amounts are calculated as follows (Note that the amount is for an entire house accommodating the entire group members).
Discount schedule for 1 Nights 2 Days packages
Discount schedule for 2 Nights 3 Days packages
Discount schedule for 3 Nights 4 Days packages
You may notice "the practical discount amount" (discount + coupon amounts), if you will, is as high as 100% or in most cases more than 50%, especially as the number of nights or the persons increases.
So for example, IF:
Your group of five stays for two nights, the group will pay JPY20,000 yen at the check in and receive JPY20,000 value of coupons for your meals and/or shopping during the three days
Your group of three stays for one nights, the group will pay JPY15,000 yen at the check in and receive JPY6,000 value of coupons – so each person "practically spends" only JPY3000
You stay solo for three nights, you pay JPY24,000 and receive JPY6,000 value of coupons – the nightly amount you pay is close to what you would pay in a business hotel
If your case is more complicated, please contact the administrator (the bottom of this page ), or directly contact the accommodation (080-8866-9157, info@pavilion.kyoto.jp). You may also reach out via LINE official accounts below.
Eligibility and Requirements
Present proof of being a resident of Kyoto Prefecture (official site – Japanese only)

Acceptable documents by itsefl are those with the name and a photo on one single sheet

Example: My Number Card, driver's license, driver's certificate, passport, residence card, special permanent resident certificate, documents that prove that one has a national qualification such as a radiance,disability welfare notebook,sailor notebook, battle hearth notebook, tourism agency staff identification card, etc.

If guests do not have any of the above documents, two of the following documents in (A) or one from (A) and another from (B) can be presented

(A) Health insurance insured person's card, care insurance insured card, pension notebook, pension certificate, etc.
(B) Student ID card, company identification card, qualification certificate issued by public organization

Junior high school students or younger children : If the above is not possible, the person's health insurance card and the legal representative shall be presented
Documents that are NOT recognized as a proof document include:

Courier documents, mailing documents, etc. Shipping paid, postcard, mail
Point cards such as stores, retail stores and drinkers in Kyoto Prefecture
Diagnostic ticket of Kyoto in the school in the hospital
Cash card, credit card
Business card, employee certificate of work

Guests are also required to present either:

COVID-19 vaccination certificates (that show they are vaccinated three times). For Kyoto residents, vaccination is required twice but the second has to be done by 14 days prior to the check-in date), or
Proof of negative COVID-19 test – the test must be conducted 3 days prior to the check-in or later
More detail on the official site (Japanese only)

Fill out "Application and Consent Form" at the check in
Guest members who cannot prove both 1 and 2 or do not fill out the form in 3 will not be eligible for the campaing and excluded from discount calculation
Participating Accommodations (on this site)
Your Pavilion near Kinkakuji (Seijaku-no-ie)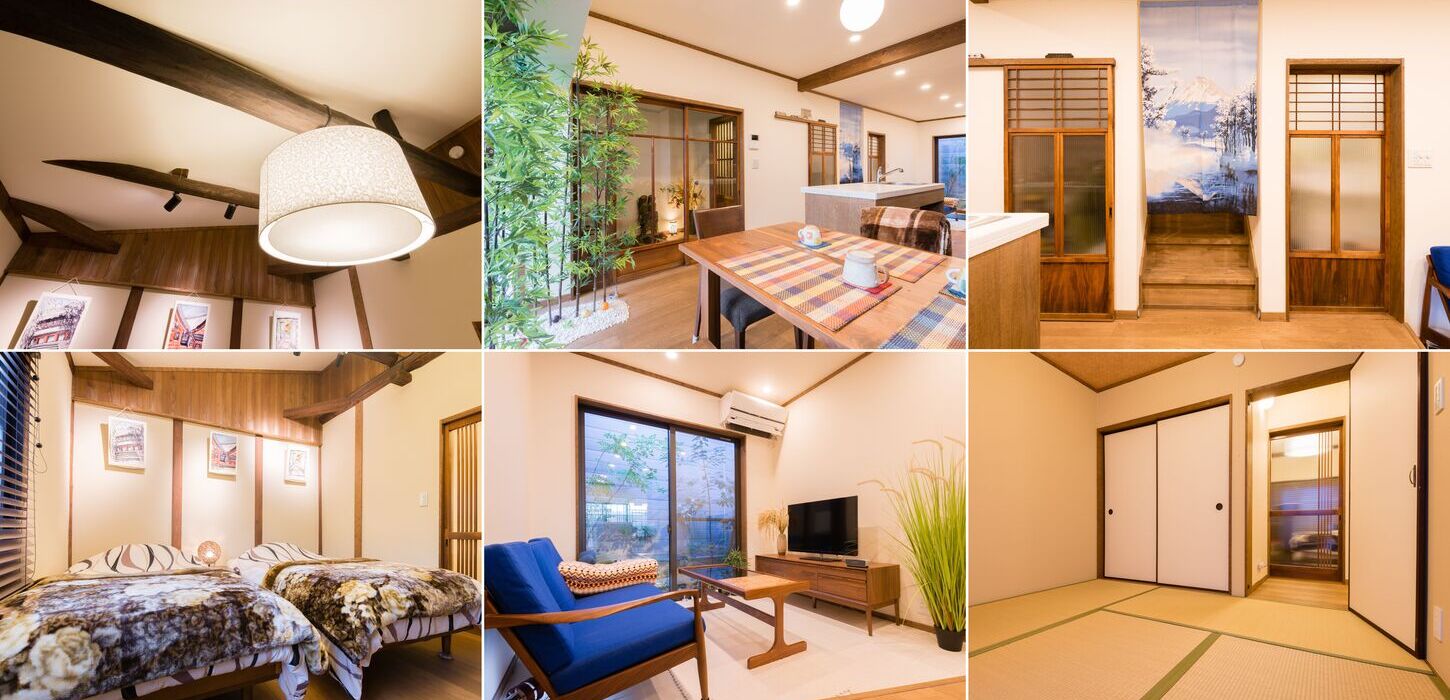 ---
My Pavilion to Arashiyama and Gion (Ryorizuki-no-ie)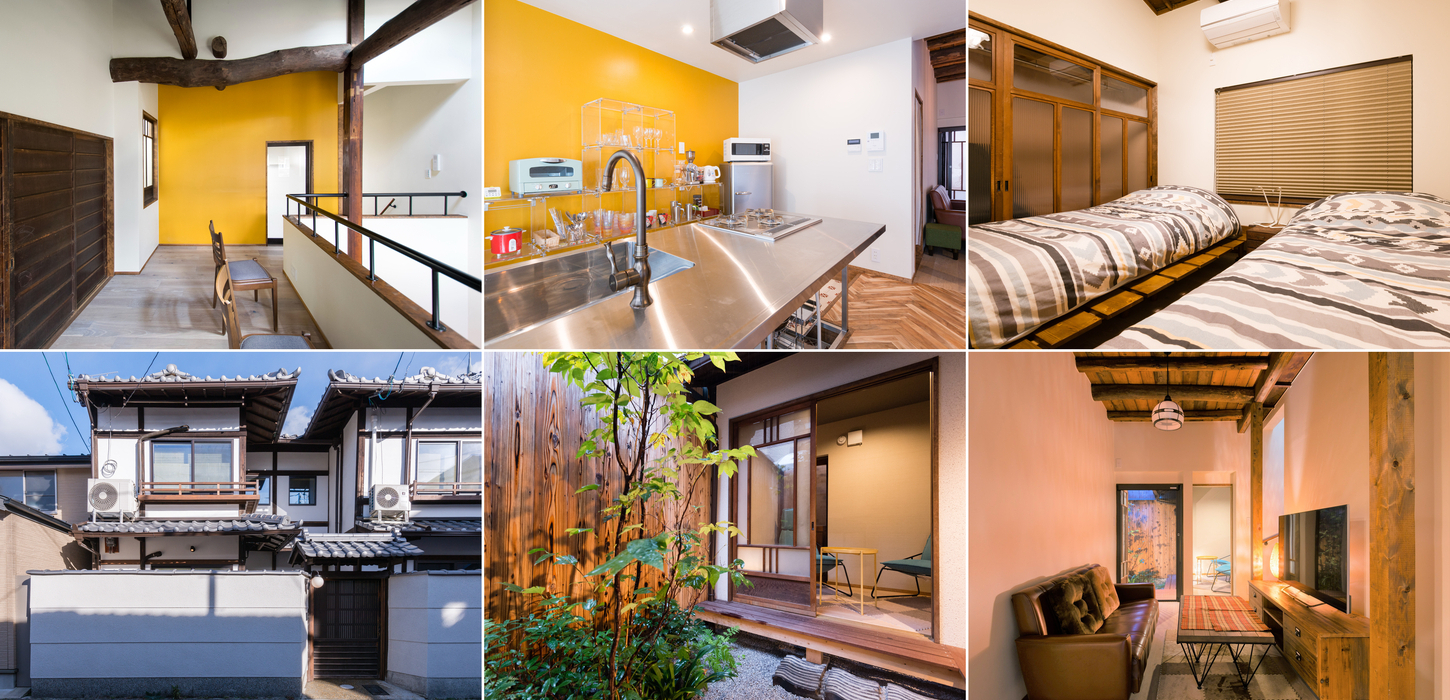 ---
Nanni Saiin Machiya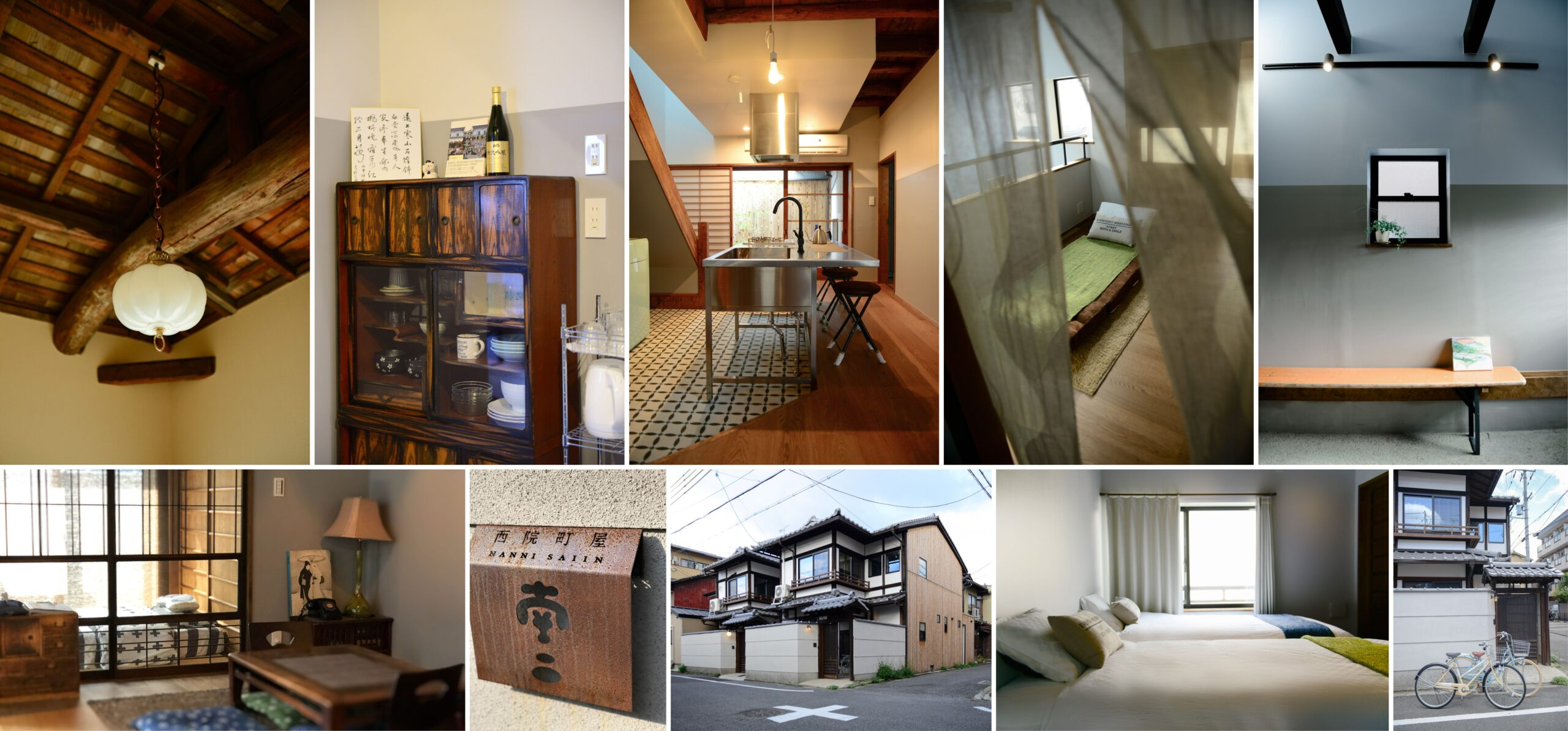 "Eligible" Booking Sites for Reservasion
Unfortunately, English friendly global online travel agencies such as Booking.com, Expedia, etc. are not eligible for this campaign – it is not because they are global but simply their sites have constraints when hotels try to explicitly present this campaign.
Rakuten Travel
Two of the three accommodations can be booked via Rakuten Travel.
Jalan net
Same two accommdations can be booked via Jalan net.
Direct booking channels
Perhaps the easiest way is directl booking by filling out the reservation form below (click the photo of corresponding accommodation).
Please write down "Kyoto Miryoku Sai-hakken Tabi Project" and the name of accommodation in the "Request /inquiry" section.
Cancellation Policy
The following schedule is applied to each of all packages and accommdations above. Please note that the fee (%) is applied to pre-discount amount.
Where Can I Use "Kyoto Support Coupons"?
Eligible restaurants and shops are listed on this site (sorry, Japanese only!). Shops include supermarkets, convenience stores, electronics retail stores, drug stores, beauty salons/barbars, bookstores, gas station, etc.
In Kita-ward of Kyoto city (where "Your Pavilion near Kinkakuji" is located), 49 restaurants and cafes and 137 shops are listed. In Nakagyo-ward (where "My Pavilion to Arashiyama and Gion" and "Nanni Saiin Machiya" are both located), 387 restaurants and 406 shops are listed.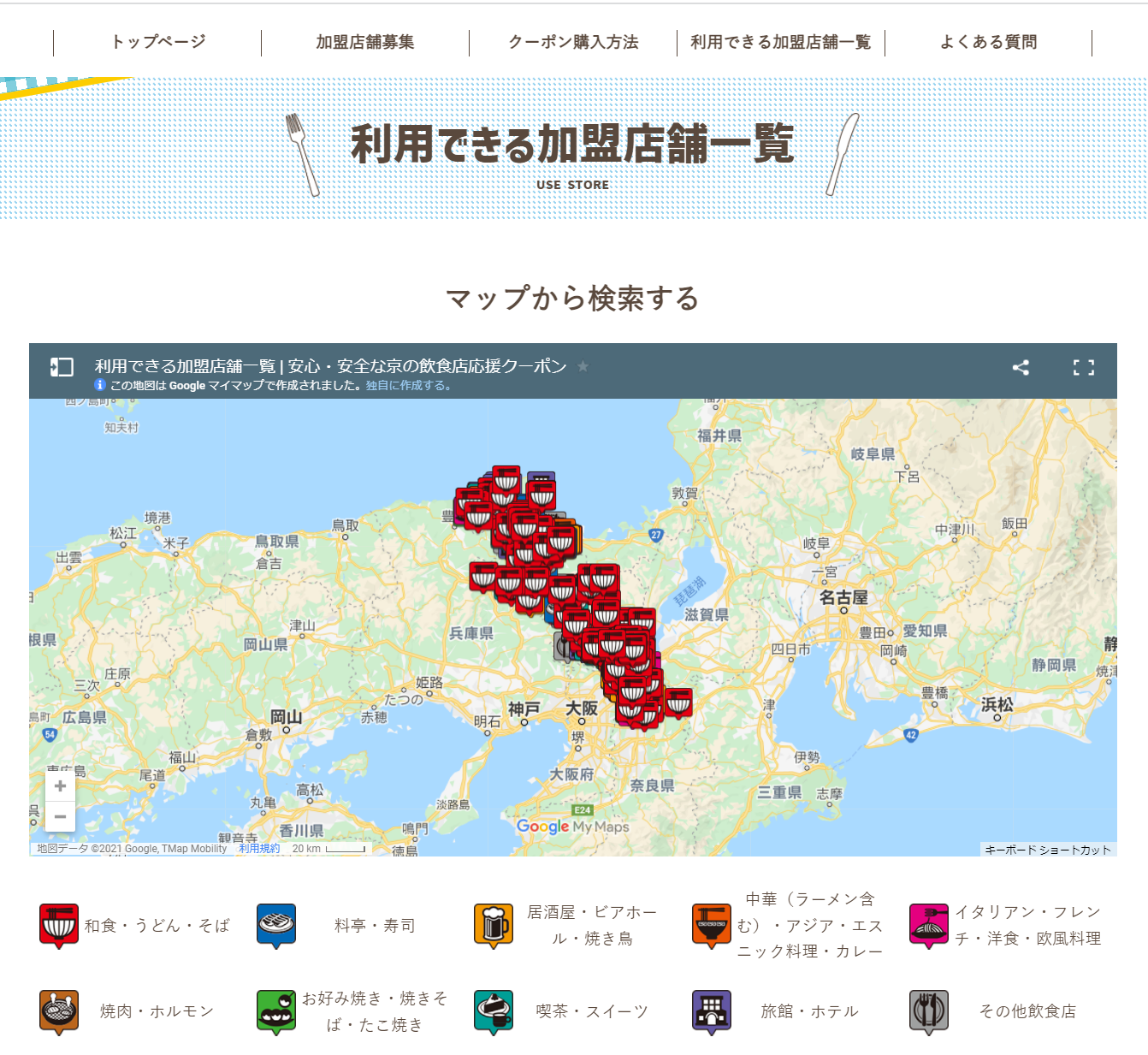 Japanese sites(日本語サイトはこちら)